You are here
Viviana Mall hosts 'Nirmalaya Project 2.0', during Ganeshotsav 2021
Viviana Mall hosts 'Nirmalaya Project 2.0', during Ganeshotsav 2021
·Dedicated Containers set-up at Viviana Mall encouraging people to place Nirmalaya offerings for upcycle
·Digital Registrations only
·Organic manure produced at Viviana Mall through recycling Nirmalaya will be distributed free of cost to take care of the existing green cover
Mumbai, September'21: Marking the success of 'Nirmalaya Project' in 2019, Viviana Mall, is once again excited to host 'Nirmalaya Project 2.0', to make it as yet another successful campaign.
In its endless pursuit of giving back to the society, this year, too Viviana Mall in Thane, has pledged to host an eco-friendly campaign called 'Nirmalaya Project 2.0', during Ganeshotsav. Starting from 10th September 2021 till 21st September 2021, Viviana Mall will collect Nirmalayas at the Mall premises. The aim is to have cleaner festive celebrations for a greener tomorrow. 
Nirmalayas are offerings made to God during worship. Offerings include perishable and non-perishable materials, however, Viviana Mall will accept only perishable offerings like plants, leaves, flowers, garlands, cotton, etc. The mall has set up Nirmalaya containers at three pick points of the premises, that includes, Courtyard (front entry), East court side entry (back entry), and Upper Basement level. The mall requests all visitors and customers to deposit all the flowers and perishable garlands that get replaced daily and even on the day of the idol immersions at all the three pick points. 
Speaking on this initiative, Ms. Rima Kirtikar, Chief Marketing Officer of Viviana Mall said, "The Nirmalaya Project is our step towards contribution to the environment. While the entire world is dealing with the atrocious impact of COVID-19 virus, we wanted to make a small contribution towards the betterment of the society by making Ganeshotsav eco-friendly and pollution-free. Moreover, we had conducted a similar campaign just before the pandemic in year 2019, where we received a tremendous positive response from our customers and media, which is why carried forward this initiative. A total of 4.5 tonnes of offerings was converted into compost manure and given back to the citizens. Through this activity, we are sure that the manure generated by Viviana Mall will help people to adopt cleaner celebrations for a greener tomorrow."
"In addition to this campaign, we will also erect a 2 feet, eco-friendly Ganesha idol in the mall's atrium, from 10th September to 16th September. And, as a ritual, we will perform Ganpati Aarti, twice every day," added Ms. Kirtikar.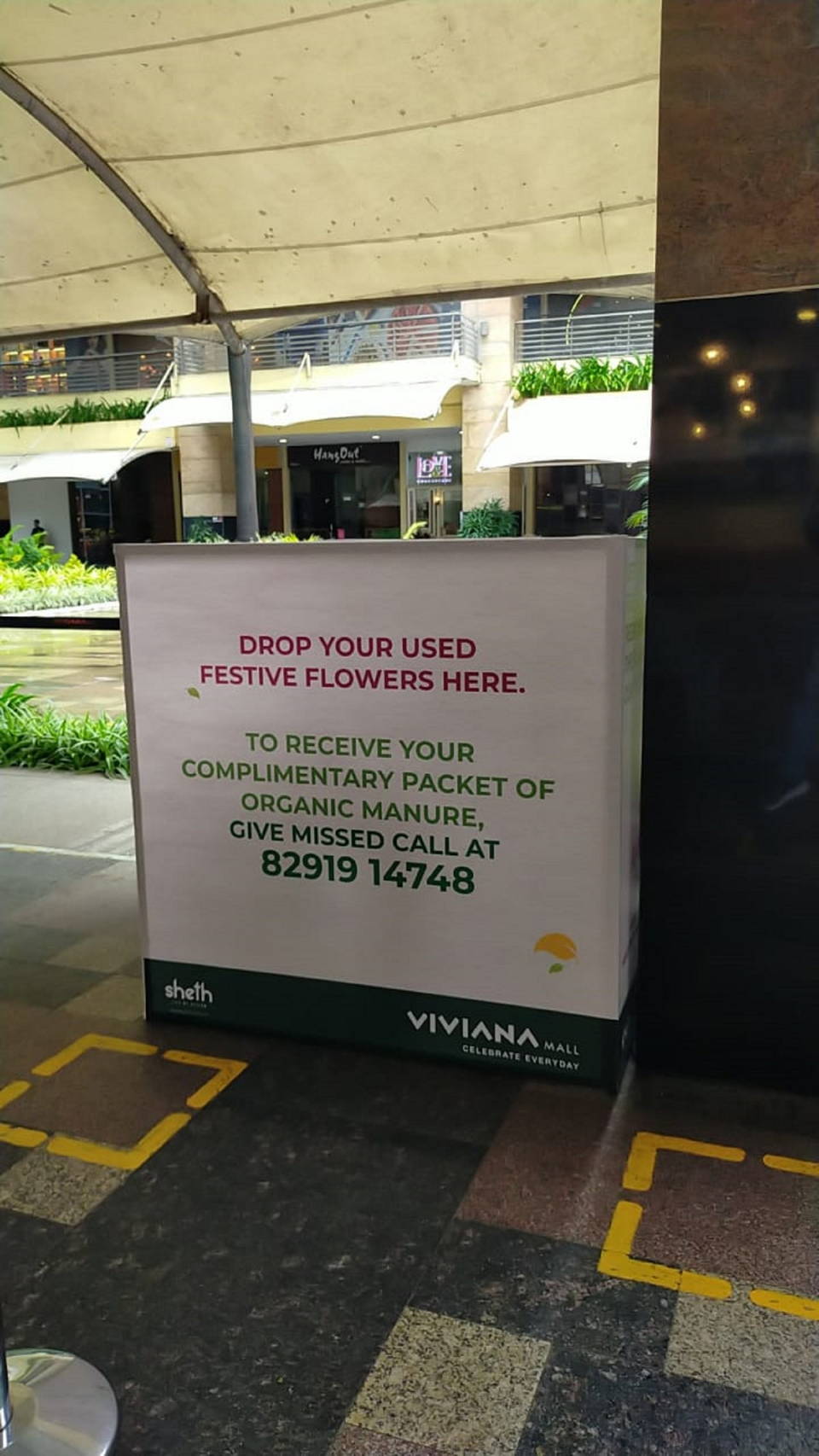 Nirmalayas received will be upcycled at Viviana Mall's Organic Manure Processing Plant to generate manure. This organic manure will be distributed for free to the visitors between 2nd October 2021 and 15th October 2021. Through this initiative, Viviana Mall looks forward to contributing towards the upkeep of trees and plants around the city in an organic way.
Mr. Gurvineet Singh, Chief Executive Officer of Viviana Mall said, "We all have been faced with an unprecedented time. But, as we get back to the normalcy, Ganesh Festival is one such opportunity for us to grab, and make the most of it for our customers. However, as we celebrate the festivities, we ensure to continue to abide by all the COVID-19 protocols. Everything has become contactless in the post pandemic world, thus technology is ruling in all the walks of businesses. Hence, we have adopted a digital mode of registration for the devotees depositing their Nirmalayas, so as to carry out the activity seamlessly. A contact number will be at display, next to the collection boxes. Devotees will have to give a missed call on it, and they will receive a code number/registration code. Followed by the process, the registered customers, will automatically become the member of Viviana Mall's V-Club, a loyalty program, by the mall. Through this Nirmalaya collection activity, we aim to make it easy for Ganesh Bhakts, to celebrate the arrival of their beloved god, in an eco-friendly way."
Viviana Mall has a manure processing plant, where it will treat perishable materials into manure. As part of larger responsibility towards nature, the food waste generated out of Mall's food court and restaurants is converted into organic manure. This Organic Waste Management Plant generates close to 4 tons of organic manure every month.
About Viviana Mall:
Viviana Mall, a well-known 'Destination Mall' by the Ashwin Sheth Group, was built to give an experience to its audience. Encompassing one million square feet, Viviana Mall covers over 250 leading brands in its prime retail and leisure space. Established in 2013, the mall is India's first and only visually impaired friendly mall and has also launched "XRCVC-Viviana Extension" a resource centre for visually impaired.