You are here
Oberoi Mall concluded its 3rd Edition of Kidzbotics
Oberoi Mall concluded its 3rd Edition of Kidzbotics
~ Focus on advanced coding to alleviate human efforts ~
~ Robot soccer game ~
Mumbai, 8th June 2023:   After two successful seasons, Oberoi Mall, one of the trendiest retail destinations in Mumbai, concluded the much-revered 3rd edition of its signature IP- KIDZBOTICS.  The two-day event focused on engaging kids with the fundamentals of AI, the event happened between the 3rd & 4th of June at the mall atrium. The event was organized in association with our training partner 'Coding Tales'.
Where the first two editions of KIDZBOTICS focused on apprising the participants with the fundamentals of AI, the third edition was designed in providing a much more immersive and advanced learning experience to the kids.  The participants learned the advanced programming language used to code the robots and prepare them to alleviate human efforts for performing various activities. The aim was to help kids develop and enhance their skills set be it - logical reasoning, critical thinking, problem-solving, coding, machine learning, understanding of artificial intelligence, or product development skills.  Alongside informative and engaging seminars, children were handed over the Al-based kits; while their parents indulged in the retail therapy, kids at the workshop witnessed the actual application of Robots created by them and won exciting prizes.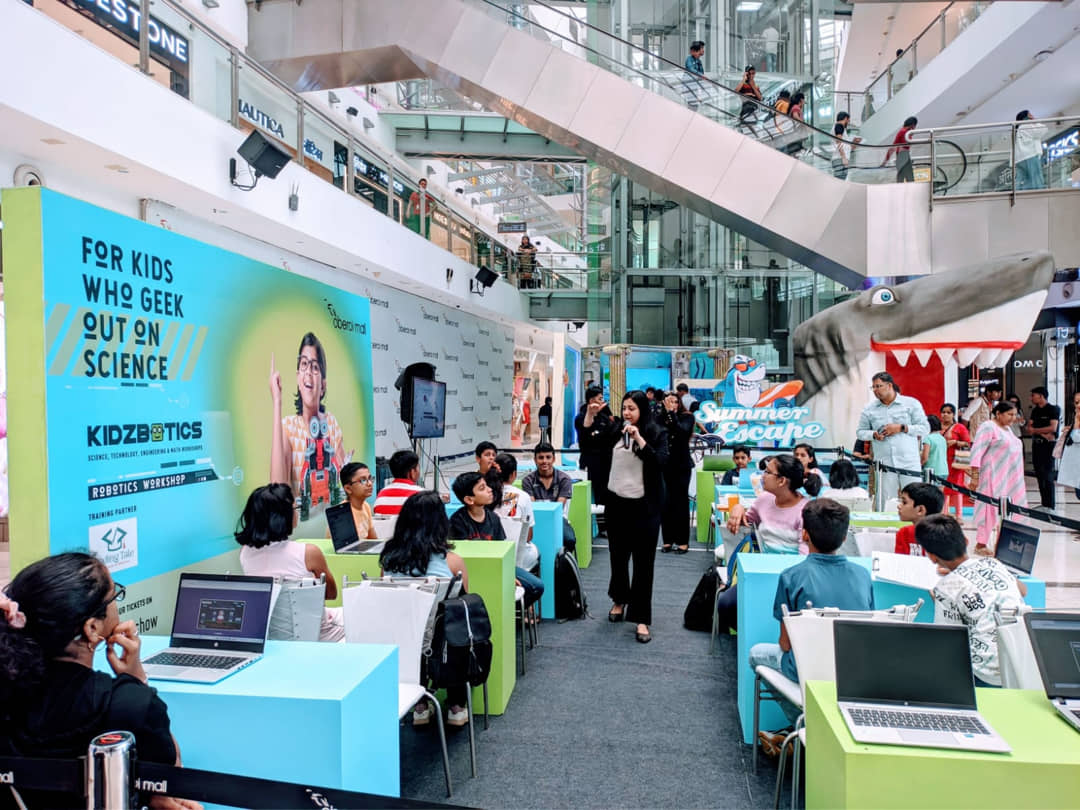 Oberoi Mall has always been at the forefront of providing the most enduring, immersive, and engaging experience to its customers – be it any age group. Such specially curated programs and events are focused on creating value for each person walking into the mall.  This season brings in an array of such events at the mall, which would make every visit a memorable experience for everyone.
 Mr. Sameep Pathak, CEO-Mall, said, "After the overwhelming response we have received from the first two editions of KIDZBOTICS, we promise a much more exciting edition this season.  We thank our partners Coding Tales for creating such a unique program, especially for us. The focus of the event is to empower and educate kids to become future innovators through such engaging activities that use computational and experiential thinking."
About Oberoi Mall:
The Oberoi Mall is located at Goregaon (East) on the Western Express Highway and offers almost 5.52 lakh square feet of fashion, Food and Leisure. It has occupied a significant position in the minds of customers and retailers. By reflecting and enabling customers' lifestyles and delivering affordable luxury with a 'customer first' philosophy, the Mall has distinguished itself as something truly special on the retail landscape. Pioneered by the real estate development company, Oberoi Realty Ltd. Oberoi Mall has found a unique niche amongst quality-conscious and discerning customers and offers facilities that include two levels of the basement with a parking capacity for approximately 1,000 vehicle parking, a large central atrium with natural light, elevators and escalators for internal circulation, central air-conditioning, and an integrated building management system.
The Oberoi Mall is India's first LEED V4.1 O+M Platinum USGBC-certified retail destination. The Mall also houses brands like Zara, Marks & Spencer, Lifestyle, Sephora, SSBeauty, Forevermark, Tanishq, GKB Opticals, Croma, Unicorn, Nike, Puma, Asics, Levi's, Starbucks, Allen Solly, Helios, Ethos, The Bombay Store, The Souled Store, Fabindia, Timeszone, Play N Learn, PVR Icon, Social, MOD, McDonald's and so on. Mall also caters to entertainment brands like Timezone, Play N Learn, PVR Icon with 6 screens, Play House (dedicated to kids), etc. More information about the company is available at https://www.oberoimall.com
About Coding Tales:
Coding Tales is designed for children aged 5-17 and it is a different kind of programming school. They teach complex coding concepts and simplify them and use analogies for children's understanding. It includes various innovative challenges, robots, games, drones, 3D printing, and many more. They believe that each child chooses their preferred activity and learns at their own pace.