You are here
SoulTree introduces Men's Grooming Range
Extending its portfolio of 100% natural & safe beauty and personal care products, SoulTree is happy to announce the launch of its range for Men's Grooming products – a woody After Shave Balm and a Hair & Body Wash with an appealing Vetiver scent.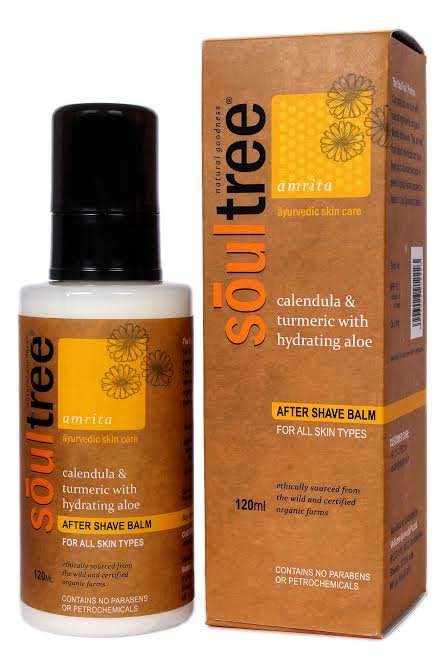 ​Calendula & Turmeric with hydrating aloe After Shave Balm
Historically, Calendula (commonly known as "Marigold") was used in wars to stop bleeding and to quicken the healing of wounds. It is considered beneficial in reducing inflammation, promoting wound healing and new skin growth. This therapeutic & healing herb is a key ingredient in the After Shave Balm.
As per industry standards, After Shaves can be divided into two broad categories, balms and splashes. Balms are heavier-feeling on the skin and typically provide more irritation relief & better moisturisation to the skin, particularly in cold or dry climates like now. With the mild woody aroma, this soothing, alcohol-free balm heals razor burns and cools the typical after shave irritation. Fresh extracts of Aloe Vera, Calendula, Vetiver and Turmeric provide protection and nourishment essential for men's skin care.
Features:
· Aloe Vera is used for soothing, cooling and moisturizing the skin
· Wheat Germ & Olive Oil are used for skin nourishment & anti-oxidants
· Vetiver Roots are used as anti-septic and cooling agents
· Calendula is used to reduce any skin irritation or redness
· Free from alcohol & chemical laden colourants
Usage:
Massage a small quantity on rinsed skin after shaving. Rub lightly till the balm is completely absorbed. Every day use after shaving smoothens skin texture.
Packaging & Pricing: The After Shave Balm comes in a recyclable bottle with a nozzle for easy use in a packing of 120ml priced at Rs. 350 /-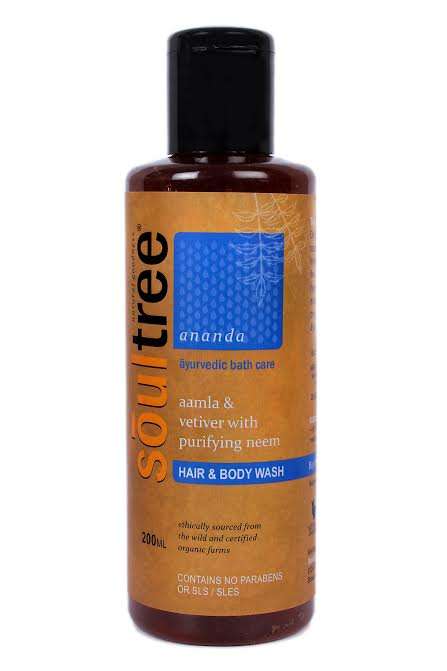 Aamla & Vetiver with Purifying Neem Hair & Body Wash
SoulTree's Hair & Body wash is made with a select combination of ingredients such as Aamla, Neem, Khus, Shikakai and Aloe that nourish & clean hair and skin of every type. This energizing Hair & Body Wash makes it easy to look & feel great every day, not to mention a more easy & simple way to grooming! Aromatic & low foaming, the pH balanced gel removes dirt & surface pollution without stripping natural oils – giving skin the right moisture and hair the needed conditioning.
Features:
· Aloe Vera is used for soothing and moisturizing the hair & skin
· Organic Amla is a rich source of anti – oxidants that leaves the hair & skin lustrous & healthier
· Organic Vetiver gives a cooling, fragrant & refreshing bathing experience
Packaging & Pricing:
The Hair & Body Wash comes in a recyclable bottle of 200ml priced at Rs. 295 / -
Availability : These are available on-line on www.soultree.in for quick & convenient ordering.
About SoulTree:
SoulTree® is India's first and the only range of certified natural beauty & personal care products developed by Vedicare Ayurveda Pvt. Ltd. The products are crafted from natural origin ingredients, using natural oils and carefully selected Ayurvedic herbs which are grown organically or wild-crafted in the Himalayas. SoulTree products carry the assurance of BDIH seal, the German hallmark for natural beauty products. In addition to the organic Ayurvedic herbs, these natural origin ingredients are derived from natural sources through strictly regulated processes to ensure that synthetic & harmful ingredients do not make their way into the products. No artificial colours, fragrances or harmful preservatives are added. SoulTree products are free of parabens and silicones. Every SoulTree product comes in a recyclable packaging. SoulTree believes in complete transparency and lists all the ingredients on each product label to allow customers to make an informed decision.
SoulTree offers a wide range of skin care, hair care, bath care and beauty products available across the country in stores that stock organic and natural products.